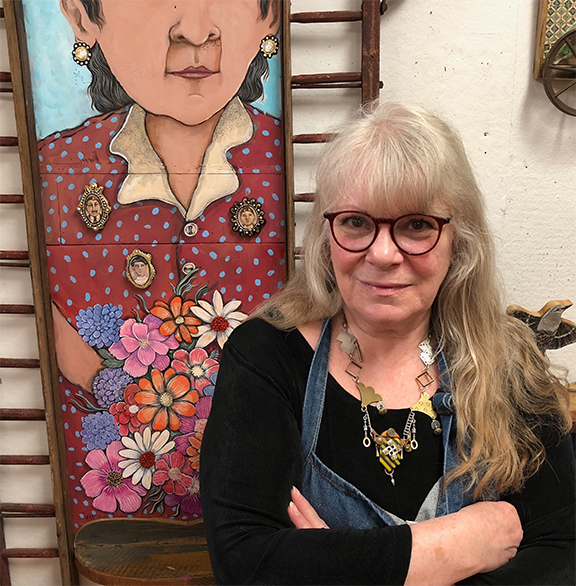 Biography
Years ago I set out to be a painter. I got there, but only after taking a few detours along the way.
While still in college, after studying puppetry with Bil Baird at his NYC theater, I founded my own troupe, the Moonberry Puppet Theater. For the next several years, I made puppets and scenery, wrote stories and performed puppet shows in Western New York. Around the same time, I became a fiber artist, creating figurative soft sculptures and dolls, which I exhibited in juried craft shows and galleries throughout the US and Canada.
After ten years of working in fiber, I transitioned to two-dimensional art and a career as an illustrator. My first jobs were editorial illustrations for magazines, newspapers and corporate clients. With the passage of time and the experience of raising three sons, my interest turned to children's books. During this period of my career, I illustrated more than two dozen children's books, including three books that I both illustrated and authored. While writing and illustrating books, I also ventured into the world of design, creating and licensing fabric collections.
Eventually, I returned to my first love –painting. Now, I am creating assemblage paintings of figurative subjects, using antique breadboards and other wooden surfaces in combination with found objects and fragments, mixing materials not unlike my soft sculptures of years ago.
"I may not have gone where I intended to go, but I think I have ended up where I needed to be." – Douglas Adams, "The Long Dark Tea-Time of the Soul."
Artist Statement
Regardless of the venue or medium, my goal over many years of making art has essentially been the same: to explore the essence of a portrait.
For me, a portrait is one part of a far more complex story. Preoccupation with the passage of time also comes into play and I enjoy weaving relics of the past into the design, texture and color of my pieces by playing with surfaces and combining unlikely materials. I often use found objects, architectural salvage, furniture remnants, and other scraps derived from past uses and former lives. With these details, I seek to capture a fragment of a tale that is, or was, or has the promise to become. If I've done my job, the viewer will have enough visual clues to unravel the implied narrative.
In short, I guess that makes me a storyteller with a hammer and a brush.
Please enjoy looking at some of my Dolls